About Us Personal Injury Chiropractors
Home
»
About Us Personal Injury Chiropractors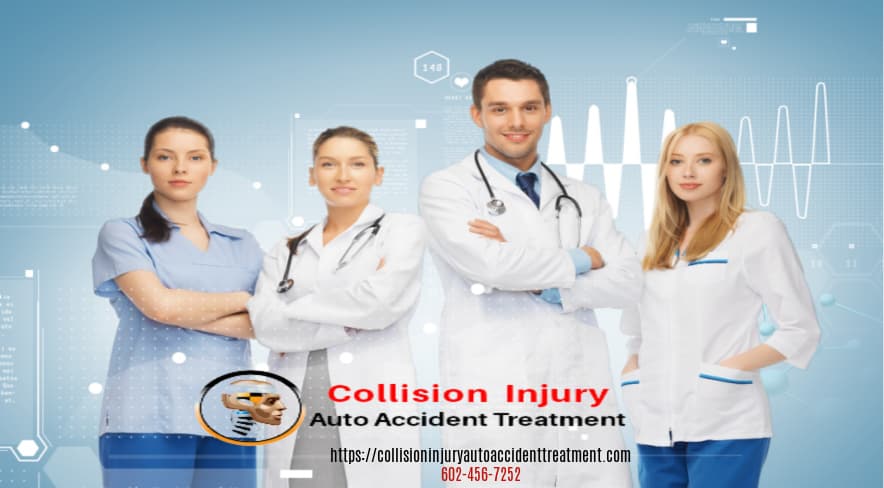 Personal Injury Chiropractors Who Make A Difference
We are a consortium of Personal Injury Chiropractic Physicians and medical Physicians that were trained in different fields of education but think alike to assist you medically, the motor vehicle accident victim!! We are everything Chiropractic and medical if you have been in an auto accident in the great state of Arizona, Give us a call. We would absolutely love to help you to get well again.
Our Medical doctors and Doctors of Chiropractic have put aside all the typical medical chiropractic differences and work in concert to put together standardized medical management and documentation of your injuries and then get this information to your personal injury attorney as soon as humanly possible. We do all of this to benefit you, the Arizona car accident victim. Our ultimate goal is to devise a medical-legal blueprint that gets you out of pain in the quickest way known in the chiropractic and medical fields and ensure all insurance companies rightfully compensate you.
Our Mission
Our mission is to provide doctors to work with lawyers to document and manage your personal car accident injury cases to ensure you get the best care possible and are fairly and rightfully compensated for your injuries.
Our Chiropractors are uniquely aware that if you or a family member have been involved in a motor vehicle accident, you more than likely have suffered spinal ligament injury or damage, which is the leading cause of pain and disability today.
How are the Collision Injury Auto Accident Treatment Chiropractic and Medical Doctors Different?
Our Chiropractors are specifically trained to look for the signs of spinal ligament injury and document your ligament injuries according to the AMA guides to permanent impairment 6th edition. We then provide each patient who suffered spinal ligament injury-specific medical and legal documentation with a comprehensive impairment rating report by a physician who is credentialed and certified by the American Board of Independent Medical examiners. All of this information is medically and legally admissible in a court of law, and your insurance adjusters know this as true and factual. This documentation allows your Personal Injury Attorney to get you the maximum settlement allowed by law and not whatever your insurance adjuster feels he or she wants to offer you.
How Does All of this Work?
At collisioninjuryautoaccidenttreatment.com our patients first undergo a thorough assessment and examination to determine the mechanism of injury causally related to their pain complex. We develop a customized injury management plan targeted to relieve your pain. We utilize the most advanced technologies in pain management, combining Chiropractic in tandem with interventional pain management. Our medical and chiropractic protocols were designed to strengthen your physical ability to cope with the devastating effects of vehicular trauma. We do so in order to quickly return you and your loved ones to a fully functional and productive life.
Personal injury chiropractors are professionals who specialize in treating individuals who have been involved in accidents or sustained personal injuries. These practitioners are focused on providing effective and non-invasive treatment options to help patients recover from their injuries and restore their quality of life. In this article, we will explore the role of personal injury chiropractors and the benefits they offer to patients.
What Are Personal Injury Chiropractors?
Chiropractors who dedicate their practice to personal injury work with certified medical doctors who have received specific training in diagnosing and treating musculoskeletal injuries, such as those sustained in automobile crashes, slip and falls, and other forms of trauma. They utilize various physical adjustment techniques and other forms of therapy to help patients recover from a wide range of injuries, including those to the neck, back, and other joints in the human body.
When it comes to personal injury cases, chiropractors want to ensure their patients get better and don't have to deal with any long-term effects from their injuries. They aid the body's natural healing process by decreasing inflammation, increasing mobility, and shortening recovery time.
Personal Injury Chiropractors Care for Accident Victims
A thorough evaluation of the patient's medical history and a physical examination come first in the treatment process. The chiropractor will utilize this data to develop a unique treatment strategy for each patient.
As for the treatment itself, it often involves a number of different approaches working together, such as manual therapy, exercise, and others. Chiropractic adjustments, massage, and other manual therapies are used in manual therapy to help patients feel better and heal faster. The chiropractor might also suggest stretching and strengthening exercises and alternative treatments like acupuncture or ultrasound.
Benefits of Treatment By Personal Injury Chiropractors 
Alternative to intrusive medical procedures and oral medication, chiropractic care is non-invasive, and therefore there are very few complications of treatment by A personal Injury Chiropractor.

Drug-Free: Patients receiving chiropractic treatment for injuries do not have to worry about the risks or side effects associated with medication use. Hence, it's a good option for people who prefer non-surgical methods of healing traumatic injuries.

When it comes to personal injuries, chiropractic care is oriented toward assisting the body's intrinsic potential to heal, which can minimize the time it takes for patients to complete a full recovery.

It has been established that chiropractic care can help avoid chronic pain by speeding up the body's natural healing process, decreasing inflammation, and improving circulation.

Victims of personal injuries feel reduced pain and suffering as a result. Care from a chiropractor after an accident can help reduce inflammation and stress on the body's joints and muscles, providing welcome relief.

Treatment for injuries that limit mobility and range of motion can have serious consequences for a person's ability to go about their daily life as before. Chiropractic therapy can do wonders for increasing mobility after an injury by easing sore muscles and relaxing stiff joints.
Finding the Right Personal Injury Chiropractors
Finding the appropriate personal injury chiropractor can make a big difference in your recovery after an accident or personal injury. Some suggestions for locating an appropriate chiropractic practitioner are provided below.
Look for Experience: When choosing a personal injury chiropractor. The personal injury chiropractor at our collision injury auto accident treatment clinics only accepts and treats car accident victims. Our practice is 100 % dedicated to the care and treatment of Arizonans that have been injured in car collisions. 

You may learn a lot about the standard of treatment a personal injury chiropractor provides by reading online reviews. You can learn what to expect by reading the comments of previous patients.

Think About Convenience If you are in pain or have mobility concerns, choosing a personal injury chiropractor who is close to your home or place of work is essential. We have 25 locations throughout the valley.

Ask About Insurance: If you weren't at fault in the accident, you won't pay a dime for your chiropractic care after suffering a motor vehicle injury. 

Take Advantage Of Our No Cost No Obligation Consultation: Come into one of our collision injury auto accident treatment clinics and meet with the chiropractor to discuss your injuries and treatment options. This can help you understand their approach and determine whether they are a good fit for your health issues.
Personal injury chiropractors play an important role in helping patients recover from car accidents and other personal injuries. By providing non-invasive and drug-free treatment options, chiropractors can help individuals recover more quickly and reduce their risk of experiencing chronic pain or other complications. If you are dealing with a personal injury, consider reaching out to a personal injury chiropractor to explore your treatment options and get back to living your life to the fullest.
Our Mission Statement
Our Medical and Chiropractic professionals opine that if you or a loved one have sustained an injury in a motor vehicle collision, you should enjoy a speedy and full recovery and be justly compensated for your injuries and damages. Given the support of our specifically trained professionals, we intend to ensure that you the accident victim, are not taken advantage of at the hands of insurance companies.
@ 2023 All Right Reserved
Website Designed by Dr John Quackenbush